BUENOS AIRES CITY TOUR
Buenos Aires is a city with a fascinating history and with a very active social and political life. Our city tour shows the highlights of Buenos Aires while covering the history of Argentina and its people. Learn about the events that have shaped Buenos Aires when visiting the National Congress, Casa Rosada (Main Government Building), Manzana de las Luces (the first site for the University of Buenos Aires), Argentine Worker's Union Building, Evita Museum, and San Telmo among other incredible historic sites.
TIGRE AND DELTA TOUR
The delta of the Río de La Plata, located 20 miles away from Buenos Aires (30 kms), is an ideal day tour spot for porteños and tourists alike. People come from Buenos Aires and surrounding areas to spend the day by the river, shop in the outdoor market and enjoy the beauty of the delta. During our visit to Tigre, we will see the Parque de La Costa, visit the Puerto de Frutas (outdoor market) and take a boat tour which will allow you to see Puerto Tigre (Tigre's harbor), various rowing clubs, weekend bungalows and resorts.
BUENOS AIRES GRAFFITI TOUR
If you love street art or just want to see a different side of the city, this is a great opportunity to explore the world of graffiti in Buenos Aires by visiting hidden galleries and walls, learning about artists, and the history behind their work and the city. Buenos Aires Graffiti Tour promotes the extraordinary street art scene in Buenos Aires. The tour takes participants to secret graffiti hotspots and art galleries, while explaining the context and origins of one of the most unique urban art scenes in the world. We finish the tour in the city's only stencil bar where artwork is available to purchase
TANGO LESSONS & MILONGA
All Mente Argentina participants will have the opportunity to take tango lessons! No one should leave Argentina without trying to learn tango - la danza del abrazo -the dance of the embrace. Tango originated in Buenos Aires and is an integral part of the city's culture and history. Group lessons will teach you basic steps while you have fun with your friends. You will also have the chance to go to a milonga (tango dance club) where people of all ages come to dance tango to live music. It is a great opportunity to practice what you have learned as well as watch more experienced dancers.
MENTE ARGENTINA NIGHT OUT
The Mente Argentina staff will take all of the students out to a local bar to drink a couple Quilmes cervezas (Argentine beers) or fernets (a popular licor in Argentina). This is a fun way to meet everyone studying in Buenos Aires with Mente Argentina! Our coordinators love sharing local hot spots with students and enjoying a little bit of the incredible nightlife together!
LA BOMBA PERCUSSION SHOW
La Bomba del Tiempo is a 17-piece improvisational drum group that incorporates world beats including Central American and African rhythms, samba and Argentine folk beats such as chacarera. Musicians play a wide variety of drums like congas and djembes and other instruments including maracas, and bells. The ultra hip Konex Cultural Center has been hosting the drum group for over four years and though it takes place on the normally slow Monday night, it is always one of their most popular events. All of our programs include free passes to a concert where you can meet other international students and dance the evening away at an incredibly unique show!
PUB CRAWL - A NIGHT TO REMEMBER
At Mente Argentina, we want our students to enjoy everything that Buenos Aires has to offer, including its famous nightlife! We regularly go on pub crawls in different neighborhoods of the city, stopping by three bars and ending the night at one of Buenos Aires' most well known clubs! The pub crawl is a great way to meet other international people studying in Buenos Aires, people just traveling through Argentina and other Mente Argentina participants while experiencing some of the hottest nightlife! The Mente Argentina Pub Crawl includes: Free pizza, beer, and wine for the first hour, complimentary shooters at each bar, drink discounts, transportation to the club and free admission!
LA BOCA - SAN TELMO - P.MADERO TOUR
The southern area of the city of Buenos Aires is as beautiful as it is interesting. The tour starts in the colorful, scenic neighborhood of La Boca, where thousands of European immigrants arrived and lived at the end of the 19th century. Later, acknowledging the importance of football in Argentina, the tour will visit the Boca Juniors Football Stadium. Then we will walk along San Telmo's narrow streets, in one of the oldest neighborhoods in the city where we will talk about the origins of Tango. Finally, we end the tour in one of the most exclusive, and modern neighborhoods of the city: Puerto Madero. This is a wonderful opportunity to discover the historic, fascinating southern part of Buenos Aires.
MORE FREE ACTIVITIES! :)
Depending on your program dates, you will also be invited to Special Mente Argentina Events at no extra Charge! We have recently organized wine tasting activities, Theather & Art Shows with tickets included, Special Girls Night outings, Soccer Stadiums Tours among many others!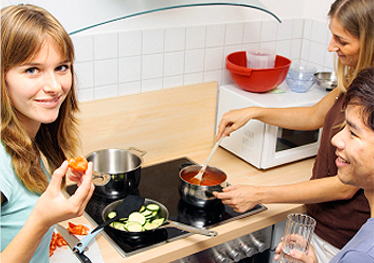 MENDOZA (OPTIONAL TRIP)
Mendoza, in the foothills on the eastern side of the Andes Mountains, is one of the most beautiful provinces in Argentina. It is best known as Argentina's wine region, but its natural beauty also makes it a popular destination for those who want to hike, raft and mountain climb. The main industries in Mendoza are olive oil production and wine making. The Greater Mendoza region is the largest wine producing area in Latin America making Mendoza one of nine cities worldwide in the network of Great Capitals of Wine. Mendoza is perfect for wine lovers who want to learn more about the Argentina's famous Malbec, tour the wineries and see the breathtaking vineyards where the grapes are grown.
IGUAZU FALLS (OPTIONAL TRIP)
The Iguazu Falls are located in the Province of Misiones in Argentina, on the borders of Argentina, Paraguay and Brazil. The massive waterfalls of the Iguazu River are the most impressive part of an already stunning landscape. The national park home to the falls is also famous for its plant life and wild life which make it one of the most popular tourist destinations in Argentina.
BARILOCHE & PUERTO MADRYN (OPTIONAL TRIP)
Bariloche is located in the Province of Rio Negro in Northern Patagonia. Known for its stunning scenery, it is undoubtedly the most popular southern city visited by people from all over the world. Bariloche's mountains, lakes, glaciers, forests, hiking trails, and ski resorts are part of its natural beauty and allow for a wide variety of year round activities.
Puerto Madryn, located in eastern Patagonia, is famous for its scenic location on the southern coast, which makes it an unparalleled destination for whale watching and penguin watching. This quiet seaside city is a bird and sea life reservation with incredible views of the Atlantic Ocean.
COLONIA, URUGUAY (OPTIONAL TRIP)
Only one hour away from Buenos Aires by ferry, Colonia, Uruguay is located on the opposite bank of the Rio de la Plata. Colonia is perfect for a day trip or a weekend getaway. This distinctive little town is characterized by cobblestone streets, historic buildings, rustic restaurants, shops and quaint bed & breakfasts. Similar to other destinations in Uruguay, Colonia also has beautiful ocean views and quiet beaches.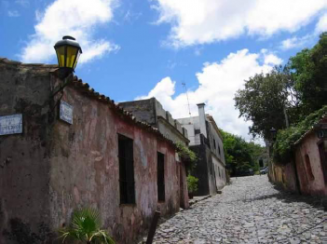 SALTA AND JUJUY (OPTIONAL TRIP)
Known as ''Salta la linda'' (Salta the beautiful), it is one of the Argentine provinces that has worked to preserve its colonial architecture as well as its natural features. The variety and beauty of the landscapes in the provinces of Salta and Jujuy are spectacular: the magnificence of their mountains, valleys, gorges, and the plant life in their national parks are just some of their main attractions. Numerous villages, monuments and historic sites like pre-colonial ruins complement excellent gastronomy, museums and shopping.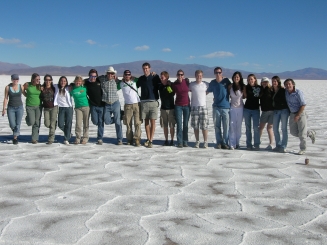 EL CALAFATE (OPTIONAL TRIP)
El Calafate is a city in Patagonia, Argentina. It is situated in the southern border of Lake Argentino, in the southwest part of the Santa Cruz Province. Building on its must visit location, El Calafate has grown quickly to cater to and profit from the visitors to nearby Los Glaciares National Park. Many visit to see such natural wonders as Perito Moreno Glacier, a massive glacier that's actually composed of many other pieces of shifting ice. Yet travelers will find that El Calafate is much more than merely a gateway to the Patagonian wild—it's a fun town offering all sorts of outdoor adventures.
MONTEVIDEO AND PUNTA DEL ESTE (OPTIONAL)
Montevideo is the pleasant capital city of Uruguay, a country in South America. It is situated on the east bank of the Rio de la Plata and is the southernmost capital city in South America.
Punta del Este is a beach resort town in Uruguay complete with casinos, beaches, yachts and lots of tourists. It is known for its beaches, surfing, beautiful people and an ardent night scene. There are many travel sights, including the amazing restaurants. It's been called the Monaco of South America.